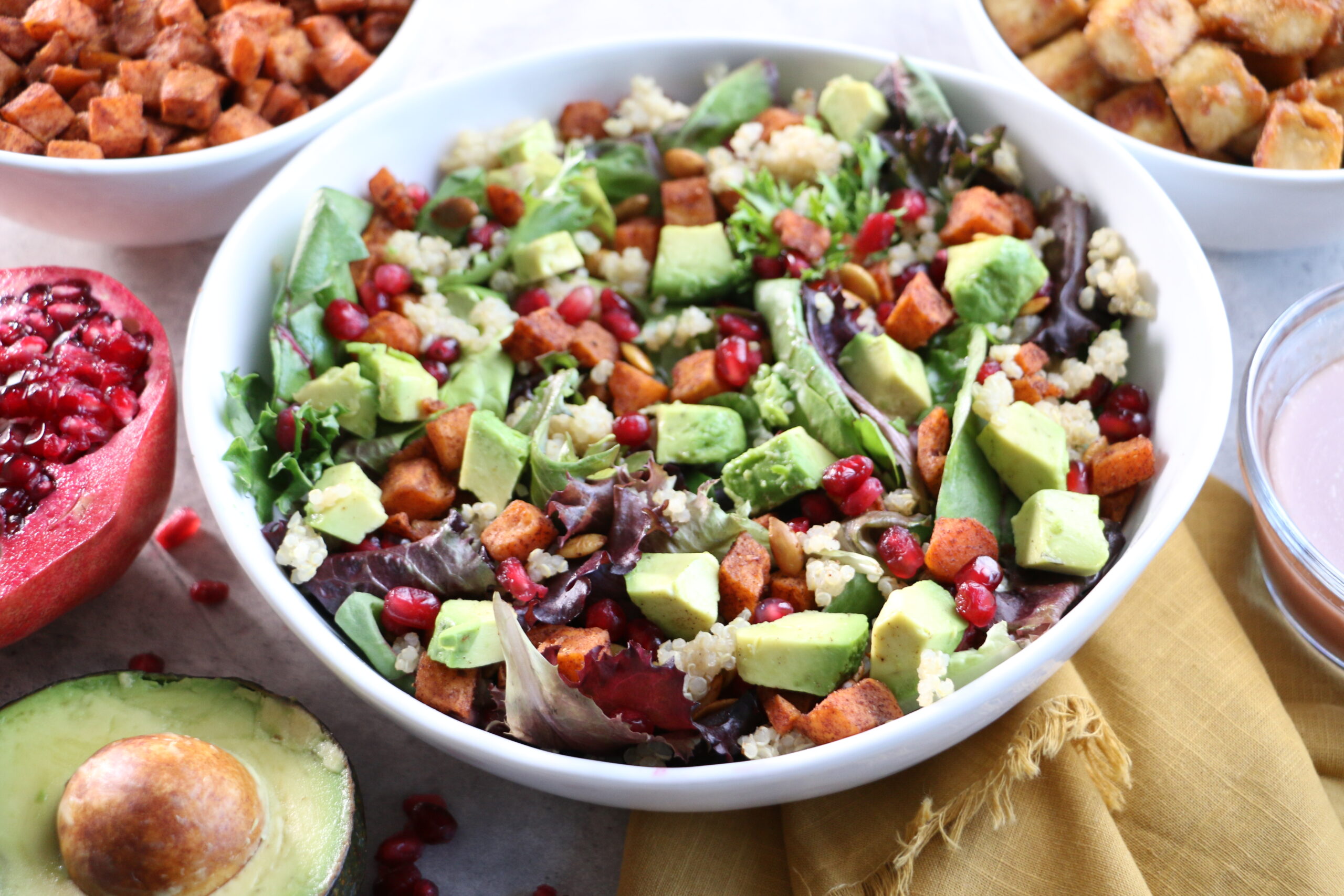 With the fall season in full swing, it is a great time to take advantage of all the vegetables and fruits this season provides. In fact, the fall season is full of fruits and vegetables that are considered superfoods.
What are superfoods, really? Although the term 'superfood' is not defined within the field of nutritional science, Merriam-Webster defines the term as "a food (such as salmon, broccoli, or blueberries) that is rich in compounds (such as antioxidants, fiber, or fatty acids) considered beneficial to a person's health."
The term is readily used by the billion-dollar health and wellness industry to market any popular or trendy health food – typically these foods have been 'forgotten' and are thrust back into the spotlight as the new 'it' food of the moment. While it's nice to want to eat foods that are 'super,' remember that there are numerous foods that are bursting with nutrient density. 
This Fall Superfood Salad is packed with some of these 'superfood' players, which also have to be in season. Let's rundown the lineup:
Sweet potatoes (often sold as "yams") are available year-round from local sources in warmer climates and from late summer through winter in other areas. They possess anti-inflammatory benefits and are an excellent source of vitamin A and a good source of iron. 
Brussels sprouts are typically available year round, with the peak season occurring between September and mid-February. Brussels sprouts are full of phytonutrients (natural plant compounds with antioxidant and anti-inflammatory properties) and are a very good source of vitamins A and C, potassium, folate, iron and fiber. 
Pomegranates only ripen in warmer climates are available from October through December. The seeds and arils of the pomegranate are bursting with antioxidants called punicalagins. Pomegranates have potent anti-inflammatory properties, which are largely mediated by the antioxidant properties of the punicalagins.
Pumpkin Seeds – pumpkins are the most common winter squash and come into season in September in most areas. Pumpkin seeds are an excellent source of protein, healthy fats, minerals and a small amount of omega-3 fats.
Embrace plant-based with this salad and enjoy all the amazing superfoods Fall has to offer!Plant based meals are packed with phytonutrients which may improve your health! Phytonutrients are natural chemicals produced by plants which have antioxidant and anti-inflammatory properties that can help support a healthy human body.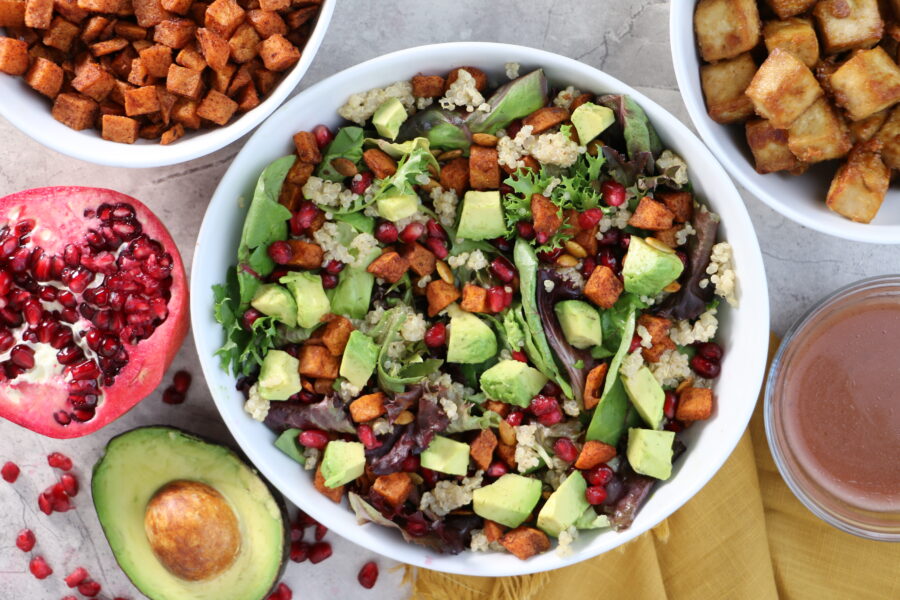 Ingredients
Portobello mushroom marinade
1

c

quinoa

(makes 3 cups)

½

c

pepitas

1

tsp

sunflower oil

¼

tsp

cumin

1

lb

sweet potatoes

cubed

1

tsp

red pepper

crushed

1

tsp

cinnamon

1

tsp

ground coriander

4

c

mixed greens

4

c

Brussels sprouts

shredded

1

avocado

½

c

pomegranate seeds

3

tbsp

hemp seeds
For Dressing
1

c

pomegranate juice

½

c

olive oil

extra virgin

¼

c

maple syrup

Grade A

1

tbsp

lemon juice

2

tsp

apple cider vinegar

2

tsp

dijon mustard

½

tsp

salt

Kosher

½

tsp

black pepper

freshly ground
Instructions
Prepare quinoa according to package directions. Once all of the water is absorbed and the tails are showing, remove quinoa from heat and scoop into a bowl and refrigerate in an airtight container.

Prepare pepitas. Preheat oven to 325° F. In a small bowl, toss pepitas with 1 tsp of olive oil, paprika, cumin, and sea salt. Spread pepitas on a foil lined sheet tray and place in oven. Toast pepitas for approximately 10 minutes or until pepitas are slightly golden and fragrant. Remove from oven and set aside to cool.

Increase oven temperature to 375° F. Scrub sweet potatoes to clean and chop them into cubes, approx. 1" in size. Drizzle cubed potatoes with 1 tbsp of olive oil and sprinkle chili flakes, cinnamon, coriander, sea salt and ground pepper over top. Toss potatoes to evenly distribute spices. Place potatoes on a foil lined baking sheet and roast in the oven for 15 to 20 minutes or until golden and fork tender. Cool to room temperature.
For Dressing
Add all ingredients in a glass jar and whisk together to combine.
To serve
In a large bowl, toss together mixed greens and shredded Brussels sprouts, quinoa and pepitas. Add cooled sweet potatoes.
Notes
To save time, buy sweet potatoes already cubed and Brussels sprouts already shredded. 

Dressing can be stored in a glass tight container, refrigerated for up to two weeks. 

Nourished Tip: Level up this recipe by adding a protein of your choice.
Nutrition
Serving:
22
g
Calories:
424
kcal
Carbohydrates:
46
g
Protein:
10
g
Fat:
24
g
Saturated Fat:
3
g
Sodium:
215
mg
Potassium:
784
mg
Fiber:
8
g
Sugar:
15
g
Vitamin A:
8688
IU
Vitamin C:
48
mg
Calcium:
79
mg
Iron:
4
mg