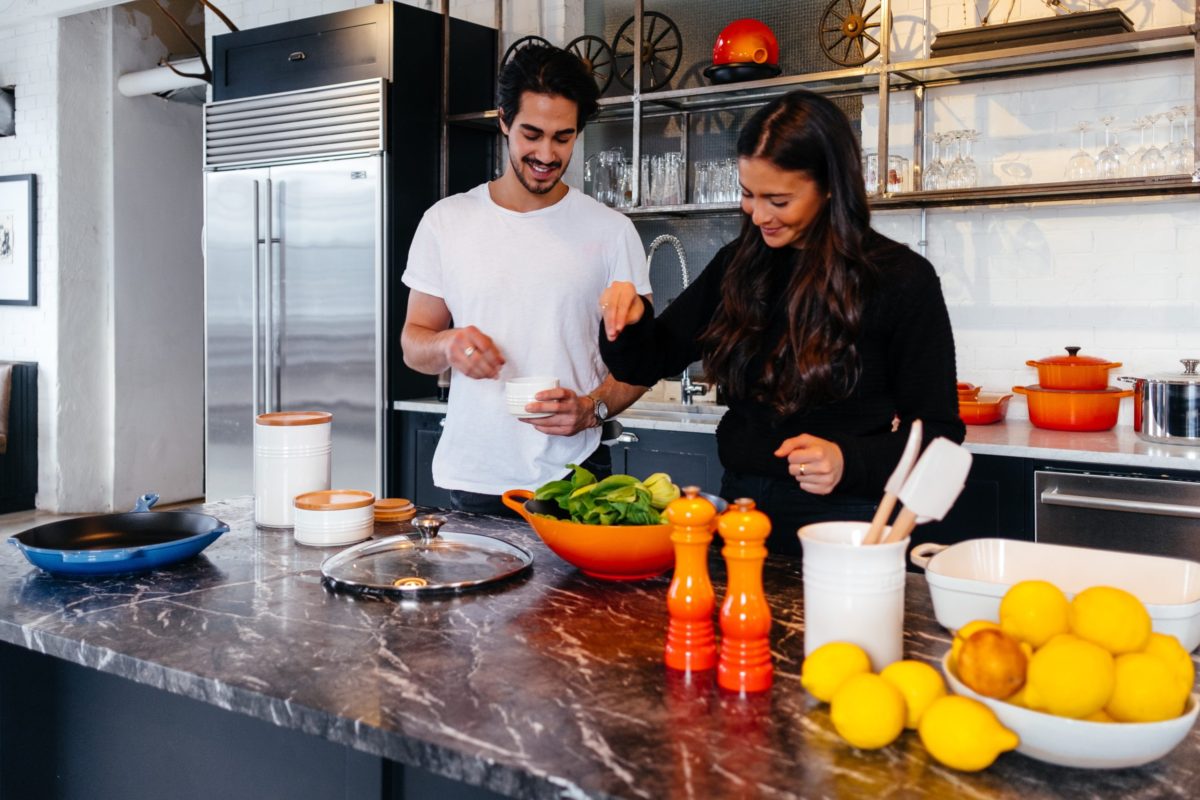 Photo: Unsplash/ Jason Briscoe
Best Practices: Food Safety During Coronavirus Outbreak
With concerns of coronavirus on high alert, you may be spending less time outdoors and more time inside where you feel safe. Unless you have stock in GrubHub or Postmates, you probably are cooking a bit more at home than you usually do – we'll talk later about how it took a threat of an outbreak to get you to cook more at home, tsk, tsk! Shopping at the grocery store then preparing, cooking and storing meals at home will require you to be more mindful so that you can protect yourself from the Coronavirus threat and prevent illness. 
Business as Usual in the Produce Section
Heading to the grocery store to stock up on pantry staples and refrigerator must haves? Many people are rightfully concerned about contracting the Coronavirus from fresh fruits and vegetables out in the open, potentially handled – and put back – by dozens of shoppers. And trust me, I love the Whole Foods salad and hot bar more than most. 
While there is no evidence that the Coronavirus can be spread by food, theoretically someone who has the virus could cough on a tomato or handle the cucumbers with hands that have been catching sneezes all day. Then you come along with your healthy self and choose that tomato and cucumber to take home for your dinner salad. Theoretically, you could handle the infected foods before prepping them and pick up the virus. 
Unfortunately the question of supermarket safety has not fully been addressed by the U.S. Department of Agriculture (USDA) or the Food and Drug Administration (FDA). In general, it will be important to follow common sense food safety guidelines even though Coronavirus is not thought to be food borne as any person-to-person contact by infected individuals can allow for exposure.
Does this mean I can't buy fresh produce or utilize the hot/cold bar in my grocery store?
No, not at all. However, this is definitely the time to exercise some additional precaution when shopping at grocery stores such as wiping down your cart or basket and bringing your own produce bags to store fresh fruits and vegetables in. When using the salad bar or hot food section of your local grocery store, use hand sanitizer directly after touching tongs, spoons or other serving utensils – and remember to keep you hands away from your face. I know my local Whole Foods has placed hand sanitizer at the ends of each station to help prevent the potential spread of the virus.  It is important to note that if there is anyone in your family who is especially at risk for contracting the virus – the elderly, the young or those with a weakened immune system (e.g., leukemia) – you may want to purchase produce that is prepackaged and wrapped already just for extra precaution.
Food Safety Guidelines to Remember
Great, you've made it home and now have safely unpacked your groceries. Since you have endeavored to dust off that set of pots and pans and cook more at home, you'll have to revisit proper food safety guidelines in preparing, cooking and storage. 
The USDA encourages individuals to follow four basic guidelines to keep food safe.
Clean

— Always wash hands with soap and warm water for at least 20 seconds before and after handling food. Remember to disinfect surfaces often.

Separate

— Don't cross-contaminate. Keep raw meat, poultry, fish, and their juices away from other food. After cutting raw meats, wash the cutting board, knife, and countertops with hot, soapy water.

Cook

— Cook to proper temperatures, checking with a food thermometer.

Chill

— Refrigerate promptly. Always refrigerate perishable food within 2 hours (1 hour when the temperature is above 90 °F).
How long do those leftovers last?
This seems to be the age old question. The general rule is to use most cooked leftovers within three to four days, being sure to reheat 165'F before eating. Click the link below to download a guide to view the storage times of prepared, refrigerated and frozen foods. The USDA suggests that these storage times will help keep refrigerated (40 °F) food from spoiling or becoming dangerous to eat. Remember freezing at 0 °F or below (not 32 °F) keeps food safe indefinitely, recommended freezer storage times are for quality only. 
Final Thoughts
It is important to not panic during this time or jump to conclusions. Look to the USDA, the FDA, the World Health Organization (WHO) and your state and local officials for any additional precautions you need to take. When in doubt, remember to follow common sense food safety procedures such as washing your hands before and after handling food, chances are, you'll be okay.
#LiveNourished