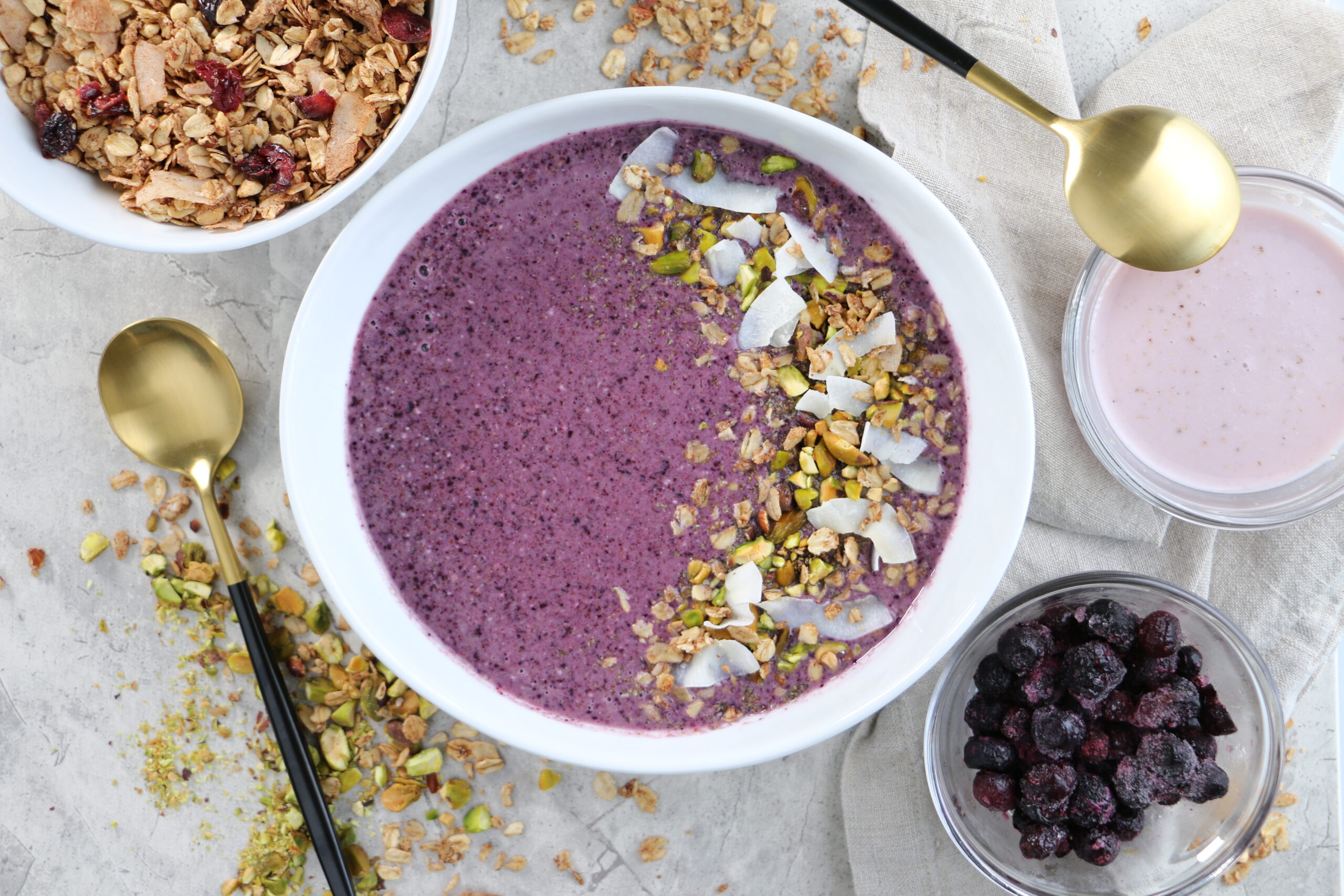 Maintaining a healthy gastrointestinal (GI) system helps your body properly digest and absorb the nutrients from the food and drinks you consume. Regular consumption of probiotics can be beneficial in maintaining a healthy, functioning digestive system. The World Health Organization (WHO) defines probiotics as live beneficial bacteria and yeasts, which confer a health benefit when consumed.
Your GI tract is home to the human microbiome, the genome of all our microbes. The human microbiome is composed of a community of bacteria that serves a critical function in developing immunity, defense against pathogens, production of short-chain fatty acids essential in energy metabolism, and synthesis of vitamins and fat storage. The microbiome is considered an essential organ of the body, without which we could not function correctly.
It's important to note that not all probiotics are created equal! Each probiotic strain has its own effectiveness level; this effective dose is determined by clinical research. It would be wise to consult with a registered dietitian or your PCP before choosing a probiotic supplement. Looking for a more convenient option? Yogurts and kefirs contain probiotic strains that are dairy-free probiotic yogurt – which I love. And because gut health is so important, we used @califiafarms dairy-free yogurt, a probiotic powerhouse w/ only 1g of sugar per serving. The base of this bowl is pretty simple, so boost the nutrient power of the smoothie by heaping on toppings like hemp, chia, and flax seeds, extra blueberries, and crushed pistachios— blueberries contain antioxidants, chia seeds and oats are packed with fiber, and flax seeds are a good source of omega-3 fatty acids.
Don't forget the granola to get fierce with fiber! Yup, we've got you covered with our "Damn It's So Good!" Homemade Granola.
Did you know Americans only average 15g of fiber per day, when the recommended daily amount for women and men is 25-38g, respectively? One cup of raw oats contains approximately 8 grams of fiber, making it an excellent fiber source, including the powerful fiber beta-glucan, a soluble fiber. Both soluble and insoluble fiber help bulk up your stools and can be used as a food source for good bacteria in your large intestine. A 2017 study found that fiber's importance is intimately tied with the importance of our gut microbes.
So what are you waiting for? Add this probiotic-packed, fiber-fierce smoothie bowl to your meal prep schedule and boost your gut health! #LiveNourished
Nutrient Spotlight
Probiotics are the good live bacteria that support the gastrointestinal system and provide a health benefit to the body. There are over a 100 trillion good bacteria, and over 1,000 different species. Probiotics help the body extract nutrients from food, improve the body's immune function, and support the intestinal wall's integrity. Probiotics are commonly found in yogurt, sauerkraut, and kimchi.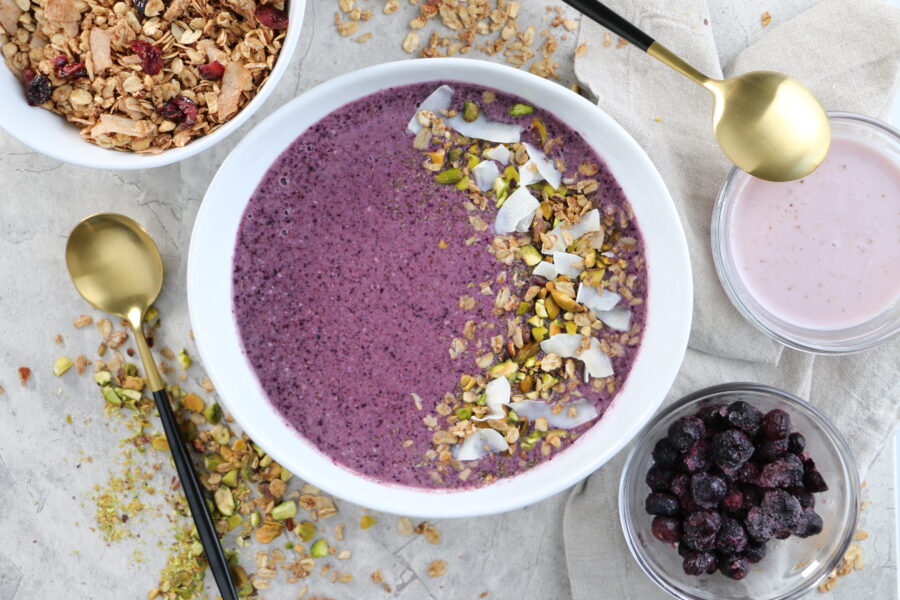 Ingredients
1

large

banana

sliced and frozen

2

c

blueberries

frozen

1

c

probiotic dairy-free yogurt

unsweetened, blueberry

½

c

almond milk

unsweetened, vanilla

¼

c

old-fashioned oats

gluten-free

2

tbsp

almond butter

1

tbsp

maple syrup

pure, Grade A

1

tbsp

chia seeds

1

tbsp

flax seeds
Optional Toppings:
pistachios

crushed

coconut

toasted and sliced

chia seeds

flax seeds

banana

sliced

blueberries

fresh

granola
Instructions
Place frozen banana, frozen blueberries, yogurt, oats, almond butter, maple syrup, chia seeds, and flax seeds into a food processor or high powered blender.

Blend until smooth and creamy, 3-5 minutes. If needed, scrape down the sides of the processor/blender.

Scoop into two bowls and garnish with toppings of your choice.
Nutrition
Serving:
22
g
Calories:
224
kcal
Carbohydrates:
34
g
Protein:
5
g
Fat:
9
g
Saturated Fat:
1
g
Polyunsaturated Fat:
1
g
Monounsaturated Fat:
1
g
Trans Fat:
1
g
Cholesterol:
1
mg
Sodium:
92
mg
Potassium:
301
mg
Fiber:
6
g
Sugar:
19
g
Vitamin A:
62
IU
Vitamin C:
10
mg
Calcium:
112
mg
Iron:
1
mg