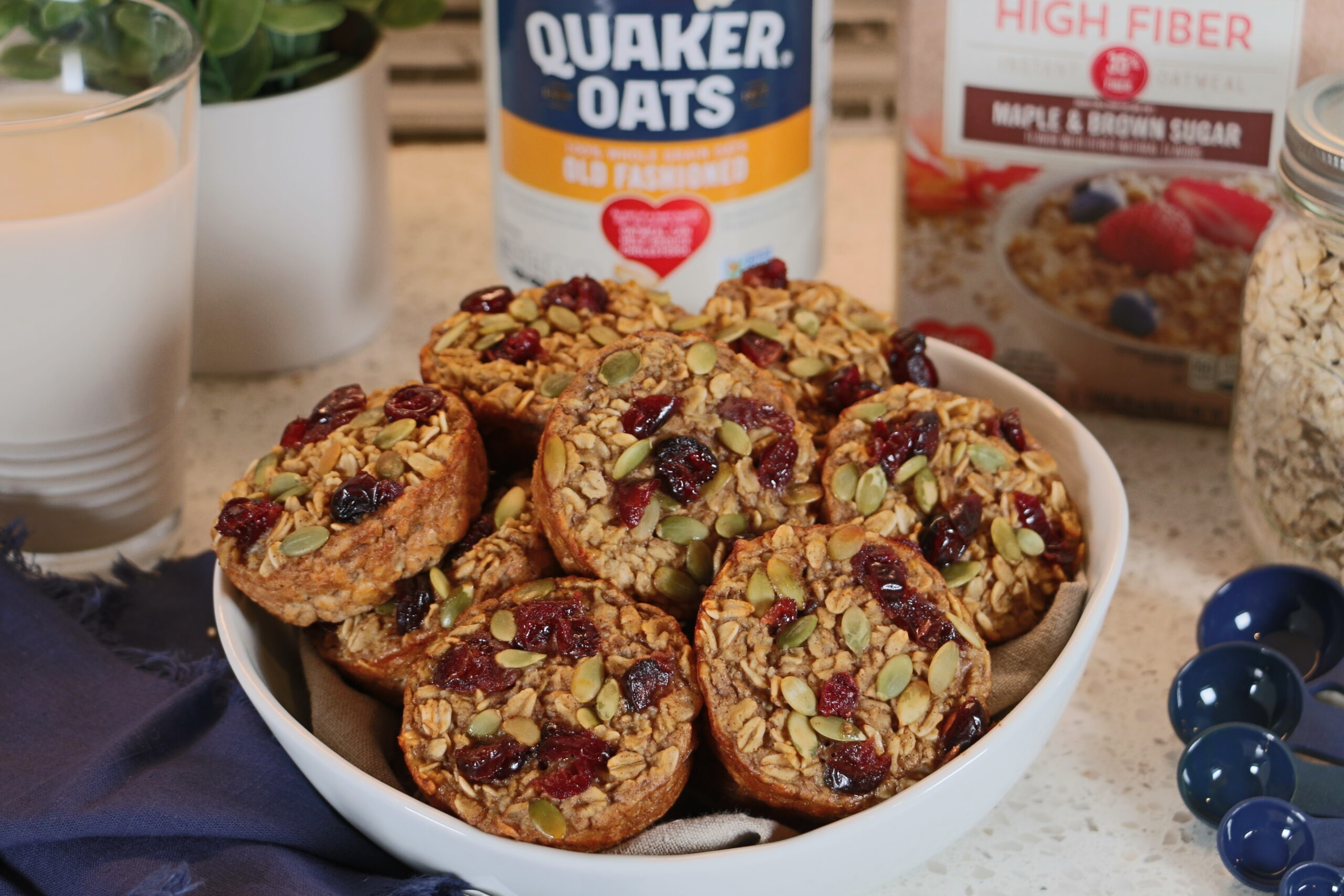 #Sponsored | Fiber plays an important role in maintaining a healthy digestive system by fueling healthy gut microbiota and helping regulate bowel movements, keeping them soft and regular. Sadly enough, 95% of Americans fail to meet the daily recommended target of 25g of fiber for women and 35g for men and for men and women over the age of 50, its 21g and 30g respectively (PMID: 30202317).
ICYDK, dietary fiber is the part of plant foods that mostly passes through your digestive system without breaking down or being digested. There are two types of fiber: soluble and insoluble fiber.
Soluble fiber is the main type of fiber found in grains, legumes, nuts & seeds, fruits & vegetables. When digested it pulls in and absorbs water, partially dissolving into a gel-like substance, which may help slow down digestion to help provide a slower supply of blood glucose.
Insoluble fiber does not dissolve in water, and passes through the digestive tract pretty much intact, adding bulk to our stool. Insoluble fiber can help improve various digestive symptoms associated with irregular bowel movements.
Get fierce with fiber by including fiber containing foods such as complex carbohydrates and fruits into your morning meal. Certain @PepsiCo products can help people incorporate fiber into their diet while helping support their digestive system.
Quaker Old Fashioned Oats contain beta-glucan, a type of soluble fiber, which can help slow the absorption of glucose. Given its viscosity-producing properties, beta-glucan from a bowl of oatmeal also helps promote satiety by slowing the rate that food leaves the stomach to increase feelings of fullness (PMID: 22187640).
Level up your bowl of oatmeal, while also increasing your fiber intake with these Chewy Oat Bites. These delicious bites can be made in a snap, and consumed at any time throughout the day. Enjoy!
#LiveNourished #PepsicoNutritionScience
Nutrient Spotlight
The soluble fiber in oatmeal is associated with various health benefits, as it may help lower blood cholesterol levels to support heart health*. It also may help slow digestion and the release of blood glucose into the bloodstream. *3 grams of soluble fiber from oatmeal daily in a diet low in saturated fat and cholesterol may reduce this risk of heart disease. This cereal has 2 grams per serving.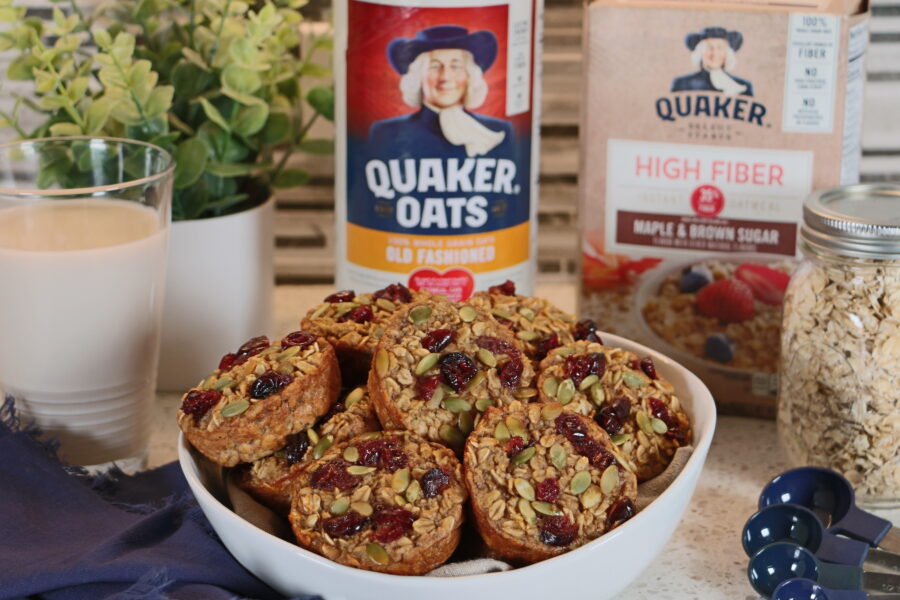 Ingredients
cooking spray

2

large

brown eggs

free range organic

1 ½

c

almond milk

plain unsweetened

½

c

applesauce

unsweetened

2

tbsp

plant-based butter

melted

¼

c

maple syrup

grade A

1

tsp

vanilla extract

1

tsp

baking powder

1

tsp

cinnamon

½

tsp

salt

finely ground

¼

c

pumpkin seeds

¼

c

dried cranberries

unsweetened
Instructions
Heat oven to 350°F. Coat well of a muffin tin (3.5 oz) very well with cooking spray.

Mix wet ingredients. In a bowl, mix the eggs and plant based milk together first. Then mix in the applesauce, maple syrup and vanilla. Whisk until smooth.

Mix dry ingredients. In a separate bowl, mix together the oats, baking powder, cinnamon, and salt until combined.

Gradually add dry ingredients to the wet ingredients. Fold with a rubber spatula until combined.

Fill the muffin tin by dividing the mixture among the muffin wells. The wells will be filled to the top without overflowing.

Top the muffins with dried cranberries and pumpkin seeds, pressing toppings into the batter.

Bake until golden-brown, 25-30 minutes.

Cool in a pan on a wire rack for 5 minutes. Remove muffins to finish cooling on a wire rack.
Nutrition
Serving:
22
g
Calories:
134
kcal
Carbohydrates:
22
g
Protein:
4
g
Fat:
4
g
Saturated Fat:
1
g
Polyunsaturated Fat:
1
g
Monounsaturated Fat:
1
g
Cholesterol:
15
mg
Sodium:
190
mg
Potassium:
107
mg
Fiber:
3
g
Sugar:
7
g
Vitamin C:
1
mg
Calcium:
79
mg
Iron:
1
mg